<
AdventHealth Cancer Institute Researcher Sarfraz Ahmad, PhD, Co-Edited New Book on Pancreatic Cancer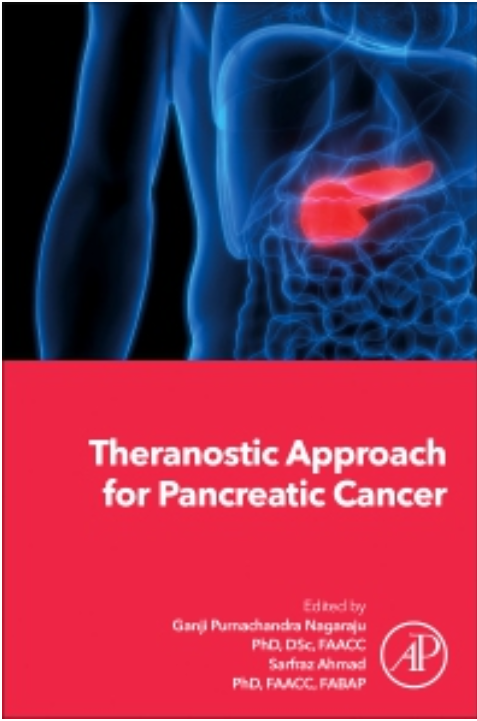 Theranostic Approach for Pancreatic Cancer, co-edited by AdventHealth Cancer Institute's Sarfraz Ahmad, PhD, was published in August by Elsevier-Academic Press and is available at elsevier.com and on amazon.com. Written to serve as a resource for cancer researchers, oncologists, and biomedical scientists, the book details a treatment approach that modulates the biologic properties of stroma in pancreatic cancer by targeting several chemotherapy-resistance mechanisms to impede their malignant property through introducing new strategies and drugs for tackling the disease.
"Pancreatic cancer remains one of the deadliest malignancies worldwide, and it's diagnosis and therapeutics are rather complex," explains Dr. Ahmad. "The poor prognosis is due to the lack of significant advances in the diagnostic and therapeutic tools available — what we have termed theranostics — compared to the major improvements witnessed for other cancers."
This new resource includes information about ongoing research as well as clinical data on pancreatic cancer and provides detailed descriptions about the diagnostic and therapeutic options. The book also discusses several interdisciplinary topics related to pancreatic cancer, including stem cells, drug resistance and pancreatic tumor microenvironment, the latest developments in chemotherapy for metastatic cancer and chemoprevention, and epigenome as a therapeutic strategy. Furthermore, the book features a discussion on theranostic clinical applications for personalized treatment and management of pancreatic cancer.
Dr. Ahmad co-edited the book with Ganji Purnachandra Nagaraju, PhD, DSc, a faculty member in the Department of Hematology and Medical Oncology at Emory University School of Medicine in Atlanta, Georgia. Additional features include:
Information on the roadblocks of chemotherapy in patients with newly diagnosed and metastatic pancreatic cancer
Treatment options currently available and prospective options for the future
Details on stroma, tumor microenvironment, stem cells, stellate cells, transcription factors, growth factors, and important signaling pathways as already tested types of treatment
"In this book, we tried to fill the gap in peer-reviewed scientific literature by compiling and synthesizing the latest advances in both diagnostics and therapeutics for pancreatic cancer," said Dr. Ahmad. "We believe that merging these two strategies into one term — theranostics — holds promise to become the foundation of future precision medicine regimens that could improve patient outcomes. We also covered novel areas of therapeutic development, such as genetic manipulation, vaccines, immunotherapy and small molecule-based treatments for pancreatic cancer. Our goal was to impart an in-depth understanding of treatment options currently available with future perspectives."
Director of Clinical Research in the Gynecologic Oncology Department of AdventHealth Cancer Institute (AHCI) in Orlando, Florida, Dr. Ahmad earned his PhD in biochemistry from North-Eastern Hill University in Shillong, India. Prior to joining AHCI in 2002, he spent 10 years in research and teaching at Loyola University of Chicago and the University of Illinois at Chicago's Division of Hematology/Oncology, College of Medicine. He has trained several fellows, residents, medical students, and graduate/undergraduate students during their scholarly research projects.
Dr. Ahmad also serves as Professor of Medical Education at the University of Central Florida College of Medicine and Professor of Clinical Sciences at Florida State University College of Medicine in Orlando. Throughout his career, he has published nearly 200 peer-reviewed scholarly research articles and book chapters, and nearly 400 scientific abstracts. Dr. Ahmad also serves as a reviewer and has editorial responsibilities for several biomedical journals/books. In addition, he has received competitive research grants and numerous national and international awards for his research accomplishments and contributions.
To learn more about pancreatic cancer treatment at AdventHealth Cancer Institute, call 407-303-5981 or visit our Digestive Tract Cancers Program.