<
AdventHealth's Robert W. Holloway, MD, Hosts Gynecologic Oncology Physician Observer from Hong Kong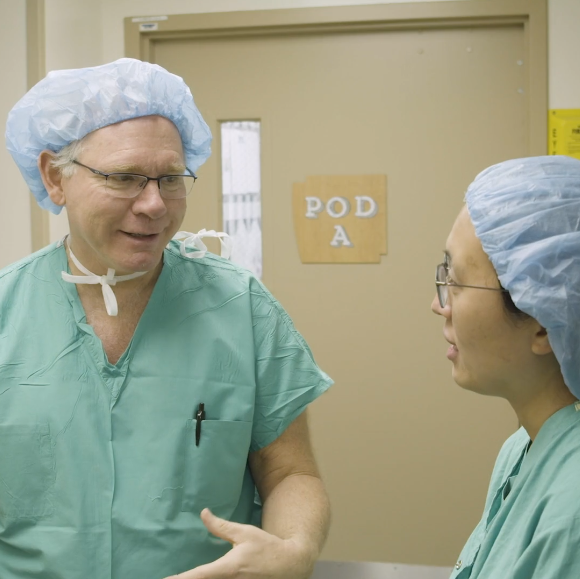 Man Yee Chu, MD, a gynecologic oncologist from Queen Mary Hospital in Hong Kong, recently spent four weeks observing AHCI Gynecologic Oncology Medical Director Robert W. Holloway, MD. The primary purpose of her visit was to observe Dr. Holloway and his group performing robotic surgery and in particular, pelvic sentinel lymph node mapping for patients with endometrial and cervical cancers.
"I was amazed by the technique that Dr. Holloway used and the way he taught me," shared Dr. Yee Chu. "This experience increased my confidence to perform more difficult cases."
Dr. Yee Chu hopes to bring the knowledge and skills she gained back to her practice in Hong Kong and eventually, contribute to the teaching of these techniques for improved patient care in her region of the world.
Dr. Holloway is internationally recognized for his pioneering skills in robotic surgery, post-graduate training programs and excellence in clinical research. In addition to serving as Medical Director of the Gynecologic Oncology Program at AdventHealth in Orlando, he is a founding member of the Global Robotics Institute. He routinely assists in the training of physicians from around the world in new surgical techniques and is a principal investigator for several clinical trials and projects aimed at advancing effective treatments for gynecologic cancers, including innovative investigations of pelvic sentinel lymphatic mapping that improve surgical staging, bio-assays that better predict response to oncologic drug therapies, and genomic markers for neurotoxicity that may improve quality of life for patients on chemotherapy. Dr. Holloway is frequently invited to lecture at major universities worldwide on topics related to robotic surgery, pelvic sentinel lymph node mapping and ovarian cancer therapies. He loves teaching and training young doctors worldwide and serves on various leadership positions both locally and globally.
In addition, Dr. Holloway is widely published with hundreds of peer-reviewed articles, book chapters and scientific abstracts. He is also a reviewer of several medical journals, has received numerous research grants and is the recipient of national/international awards for his surgical and research contributions.
For more information, call AdventHealth GYN Oncology Nurse Navigator at 407-303-5909.