Annual Gynecologic Oncology Summit in Beijing, China Features Gynecologic Cancer Expert, Robert Holloway, MD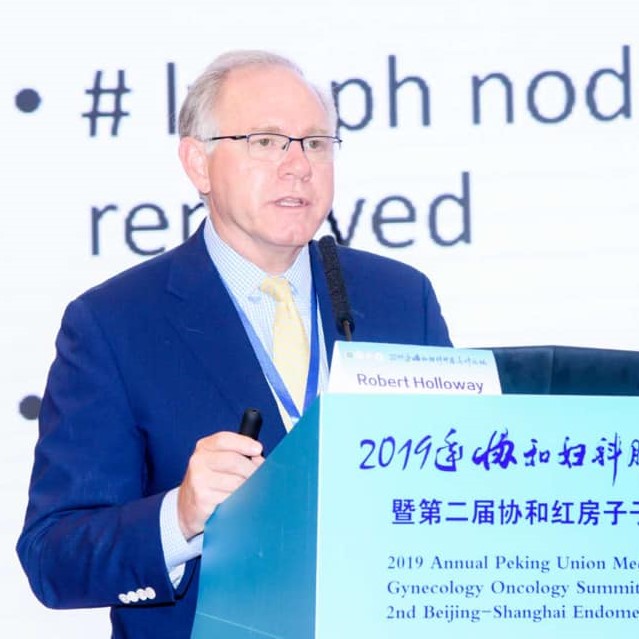 Medical Director of AdventHealth Gynecologic Oncology Program Robert W. Holloway, MD, recently served as an invited speaker at the Annual Gynecologic Oncology Summit at Peking Union Medical College Hospital (PUMCH) in Beijing, China. He presented "Endometrial Cancer Sentinal Lymph Node Update: 2019 Analysis of Pathology, Recurrence, and Survival." Other summit presenters included professors from Beth Israel/Harvard Hospitals in Boston, Royal Marsden Hospital in London, Yonsei University in South Korea, and various premier universities in China.
"Founded in 1921 by the Rockefeller Foundation, PUMCH is one of the most respected cancer centers in Asia," explained Dr. Holloway. "Appointed by the National Health Commission, it is a national center guiding the diagnosis and treatment of some of the most difficult and serious cases. I was honored by their invitation to present and share our state-of-the-art clinical research findings in discussions with other gynecologic oncology leaders throughout the world."
At the summit, Dr. Holloway also re-connected with gynecologic oncologist Jiaxin Yang, MD, PhD, the OB/GYN Professor at PUMCH who focuses on the management of rare tumors in young women and gestational trophoblast disease. Dr. Yang spent a month at AdventHealth in 2016 as a visiting professor/physician observer on out-service training.
For more information, call AdventHealth GYN Oncology Nurse Navigator Denise Cochran, MSN, ARNP, BC, at 407-303-5909, or visit our Gynecologic Oncology Program.