Gynecologic Oncology Research is Recognized as One of the Most Cited Articles Published in the Journal Gynecologic Oncology
In a recent release of the CiteScore values as extracted from Scopus, one of our peer-reviewed scholarly research publications entitled "Sentinel Lymph Node Mapping and Staging in Endometrial Cancer: A Society of Gynecologic Oncology Literature Review with Consensus Recommendations" (by Dr. Robert W. Holloway, et al) has been recognized as "one of the most cited articles published since 2017 in Gynecologic Oncology," the official journal of the Society of Gynecologic Oncology (SGO) and Elsevier, Inc.:
Most Cited Gynecologic Oncology Articles 
The AdventHealth Gynecologic Oncology (AHGO) program at AHCI is internationally recognized for excellence in clinical research, innovation in robotic surgery, and novel collaborative research investigations. As one of three ACGME-approved fellowship training programs in the state, our team has greater service capabilities and research initiatives. In addition, our surgical expertise, combined with innovative technologies and treatments, augments our track record of superior survival outcomes. Surgeons from around the world have attended AdventHealth's advanced robotic training courses and physician observations. AHGO's seminal research publications that focus on sentinel lymph node (SLN) mapping and robotic surgery outcomes are widely cited in peer-reviewed scholarly literature across the globe.
The table below lists the SLN-related peer-reviewed articles published by our group since the SLN mapping studies were initiated in 2011 (one of the first groups in the state of Florida and the U.S.):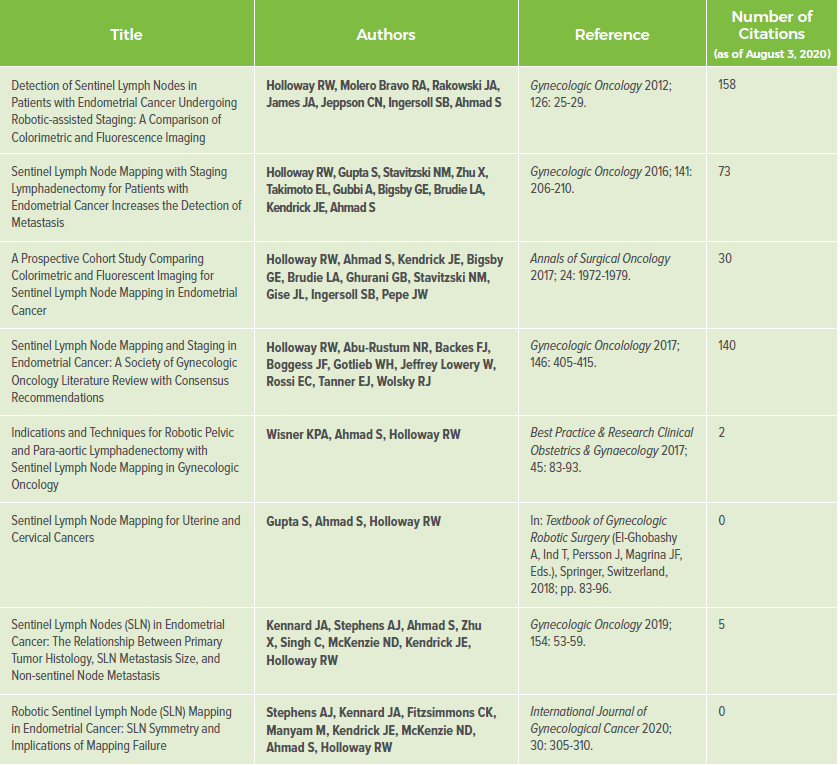 For more information or to refer a patient, call GYN Oncology Nurse Navigator Althea Buckner, MSN, APRN-AOCNP, at 407-303-5909.