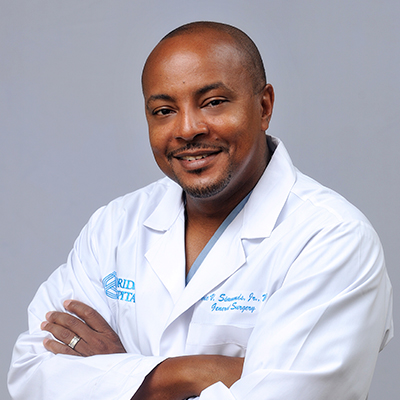 Alric V Simmonds, MD
General Surgeon

Member of the AdventHealth Medical Group
Locations:
2415 N. Orange Ave., Suite 400, Orlando, FL, 32804
Dr. Alric V. Simmonds, Jr., MD is a board-certified general surgeon in Orlando. Dr. Simmonds earned his medical degree from The Ohio State University College of Medicine and Public Health in 1999. He went on to complete his medical residency at Howard University Hospital in Washington, DC. Dr. Simmonds specializes in breast cancer surgery, endocrine surgery (thyroid/parathyroid) and hernia repair surgery.
Dr. Simmonds is an Assistant Professor of Surgery at the University of Central Florida College of Medicine and Florida State College of Medicine and was recently awarded the Excellence in Surgical Education Award from the University of Central Florida College of Medicine. He has been a member of the General Surgery faculty at Florida Hospital since his initial recruitment in 2006 and currently is the Site Director for all 3rd and 4th year medical students. Dr. Simmonds serves as the Medical Director of the Sherman Outpatient Surgery Center and Chairman of the Florida Hospital System Operating Room Governance Committee as well as a member of the Board of Directors of the Florida Hospital Credit Union.
Request an Appointment
Education
Medical School: Ohia State College of Medicine, 6/11/1999
Internship: Howard University Hospital, 7/1/2000
Residency: University of Miami and Howard University Hospital, 6/1/2003, 6/30/2001, 6/25/2006
Awards
National Health Disparities Scholar
Fellow
Chairman's Chief Resident of the Year Award
African American Student Leadership Award