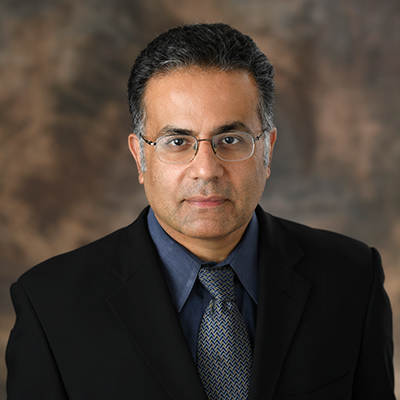 Asim Aijaz, MD
Medical Oncologist

Member of the AdventHealth Medical Group
Video Visit Available
Locations:
400 Celebration Place, Suite A270, Celebration, FL, 34747
Dr. Asim Aijaz is a board-certified oncologist and internal medicine physician. He completed his residency in internal medicine and his fellowship training in hematology/oncology at New York Medical College/Westchester Medical Center where he received commendations for outstanding clinical skills and was named both Administrative Chief Resident and Administrative Chief Fellow. Dr. Aijaz was instrumental in helping establish the Cheryl R. Lindenbaum Comprehensive Cancer Center at New York-Presbyterian/Hudson Valley Hospital in Cortlandt, NY, treating a wide variety of cancers including breast, lung, gastrointestinal, head and neck, and urologic, along with chronic leukemias and lymphomas. His role included managing the interdisciplinary relationships between surgery, radiation, pathology and radiology -- including tumor boards -- to help co-ordinate cancer care. Also at the Lindenbaum Center, Dr. Aijaz helped arranged annual cancer conferences, providing cancer updates for community oncologists. Prior to 2012, he was actively involved in the lymphoma and bone marrow transplant programs at Westchester Medical Center -New York Medical College, where he served as Assistant Professor of Medicine.
He formerly served as medical director of oncology services at the Cheryl R. Lindenbaum Cancer Center at New York Presbyterian/Hudson Valley Hospital. He is a member of the American Board of Medical Oncology, the American Board of Internal Medicine and a member of the American Society of Clinical Oncology. He is a highly respected researcher in the areas of hematology and oncology, having published multiple studies in the literature.
Request an Appointment
Education
Residency in internal medicine and his fellowship training in hematology/oncology at New York Medical College/Westchester Medical Center
Awards
American Board of Medical Oncology, the American Board of Internal Medicine and a member of the American Society of Clinical Oncology