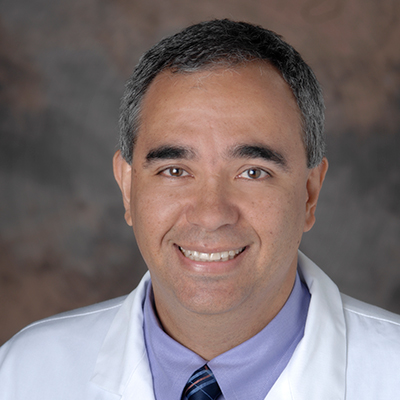 Ricardo Crisostomo, MD
Medical Oncologist
Locations:
201 Hilda Street, Suite 33, Kissimmee, FL 34741
Dr. Ricardo Crisostomo, MD is a board-certified medical oncologist in Orlando. Dr. Crisostomo brings more than a decade of experience and specialized training to Kissimmee patients who are facing cancer. Dr. Crisostomo specializes in diagnosis and treatment of all cancers, administering of inpatient and outpatient chemotherapy, as well as pain and symptom control. From childhood, Dr. Crisostomo had long-seen himself as a physician. As the son of a professional Brazilian soccer player, he originally set his sights on orthopaedics and sports medicine, though an oncology elective in medical school caused him refocus his talents on treating cancer.
Today, he has helped thousands of people diagnosed with cancer—providing each patient with individualized, compassionate, cutting-edge care. Through AdventHealth's Cancer Institute, Dr. Crisostomo and his skilled staff provide patients with access to some of today's most advanced and effective cancer fighting techniques. And because of his vast experience, he is also part of the University of Central Florida Medical School's teaching staff. The very treatments he and staff utilize at AdventHealth Kissimmee are being used to train the next generation of cancer fighters.
Request an Appointment
Education
Education
Medical School - Universidad Federal de Bahia
Residencies
Internal Medicine - San Juan City Hospital
Fellowships
Hematology and Oncology