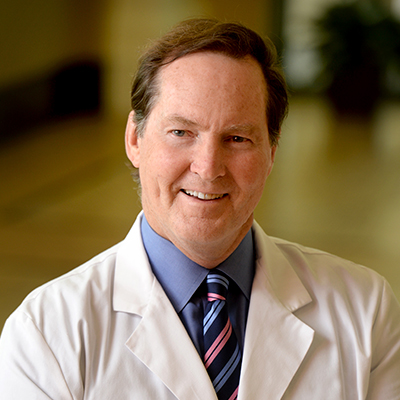 Bruce Haughey, MD, FACS
Surgeon

Member of the AdventHealth Medical Group
Video Visit Available
Bruce Haughey, MD is board certified in otolaryngology and fellowship-trained in head, neck and skull base cancer surgery . His clinical interests include: cancer and carcinoma of the head and neck, throat, tonsils, tongue, jaws, larynx and vocal cords; facial skin and scalp (basal, squamous) cancers, including melanoma; sentinel node studies; facial head and neck reconstruction; mouth, nose, sinus, skull, thyroid and parathyroid tumors; parotid, submandibular and other salivary glands (e.g. minor gland) disorders; tumors and neoplasms.
Dr. Haughey is widely published in the literature and has served in multiple academic appointments, including the distinguished Dr. Joseph B. Kimbrough Chair in the Department of Otolaryngology at Washington University School of Medicine in St. Louis.
He serves on the American Joint Commission on Cancer Head and Neck Expert panel, and has been listed in America's Best Doctors for Cancer and America's Best Doctors (Otolaryngology-Head and Neck Surgery) since the inception of these peer recognitions. He particularly cherishes the opportunity to walk through, with his patients who suffer from the above diseases, their often difficult times of diagnosis and treatment. 
Request an Appointment
Education
Fellowship
Skull Base and Neuro-Otology, University of Iowa Hospitals and Clinics, Department of Oto-Head and Neck Cancer, Iowa City, IA
Residency
Chief Resident and Fellow, University of Iowa Hospitals and Clinics, Department of Oto-Head and Neck Cancer, Iowa City, IA
Master of Science
Otolaryngology-Head and Neck Surgery, University of Iowa Medical Degree, University of Auckland, New Zealand